Blue and Gold Publishing is pleased to present:
13 Creepy Rhymes: A Halloween Collection


In these pages are thirteen
Stories spun for Halloween,
Or for reading 'round the fire
If a chill is your desire.

Pour a goblet of your best.
Find a seat where you can rest.
These rhymes are the darker kind:
Tales tuned to tease your mind.

Light the candles, bar the door,
Hang the garlic to be sure
The window won't let bat wings in.
Turn the pages to begin...


---
Table of Contents:

Harvest Moon 1
The Fall of Phineas Flanagan 7
Raymond Had the Flu 11
Mirrors 15
Oops! 21
Abigail Pass 29
Flight 19 35
Private First Class Thompson 39
Star Party 51
The Curse of Battle Bluff 57
A Graveyard Tale 61
The Gatekeeper 65
Raven's Last View 75

92 pages, available in Paperback only.
---
Click the image to purchase from our Print On Demand distributor (ships in 3 to 5 business days).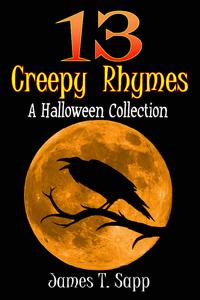 Also available from Amazon, Barnes & Noble, Lulu and other fine book sellers worldwide.