14 Fourteeners: Selections in Iambic Heptameter

Bring a moment of peace into your life!
In 14 Fourteeners, American verse-novelist James T. Sapp invites you over the horizon to the fruited plain of rhyming verse, with 14 poems and short stories for readers who revel in reading rhythmic rhymes, written in 14-count iambic heptameter.


32 pages, available in paperback only.
---
Click the image to purchase from our Print On Demand distributor (ships in 2 to 5 business days).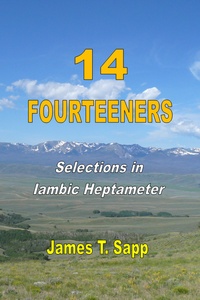 Also available from Amazon, Barnes & Noble, Lulu and other fine book sellers worldwide.