Blue and Gold Publishing is pleased to present:
A Hike On Mars and Other Rhymes


A double-dozen metered rhymes
To entertain and soothe your mind:
Some will take you on a trip
To make your Earthbound fetters slip.

Some will tickle your romance
Inviting you give love a chance.
Some are touching, one is sad,
One might make you steaming mad.

Some will chill and haunt your soul
Like night wind blowing, damp and cold.
Some will trigger memories
Of yesterdays out running free.

Others might tug at your brain
And call you back to read again;
But all will bring you peace of mind
And you'll be glad you took the time!

---
Author's Preface:
I guess I'm old-fashioned. That's what the internet wants to tell me.
As I gaze across the burgeoning landscape of popular published poetry today I see very little but the rocks and cactus and featureless dust of free verse, which is devoid of rhyme or intelligible rhythm and is largely indistinguishable from prose. This strikes me like music that has no melody or pictures with no form or focus.
For this reader, who samples verse for relaxation, revelation, and rumination I find very little free verse poetry which will grab my attention or hold it like the singing mental music of rhythmic rhymes. (Unless, of course, it is word craft of such caliber that it quickly presents imagery of especially soaring grandeur as found in timeless treatises like the thirty-eighth chapter of Job or the Song of Solomon.
English-speaking peoples have historically loved the short lines and rhymes of iambic tetrameter (8-count syllabic verse). Its easy rhythm and singing lines flow easily and smoothly off the mind and tongue and are instantly recognizable as poetic form no matter the content. I believe the majority still do. This is borne out by the large number of successful advertising jingles and particularly by the massive amounts of musical lyrics that continue to blossom in almost every genre, every year, using this form.
To this old-fashioned reader, rhythmic rhymes will always be the tastiest tidbits of poetry, no matter the pounding on our ears of the popular myth that rhyme and meter are dead.
For those who share my concerns and tastes, I humbly present the following collection (in no particular order) of mostly tetrameter poems and stories which I hope contain some spookiness, some beauty, some imagery, and some touching tears for the reader's reflection. Enjoy!
And by the way, Pluto is still a planet.
- James T. Sapp
---
Table of Contents:
Preface ix
Pine Dragon 1
A Summer Retrospective 2
Empty Collars 3
Earthshine 5
Vega! 6
Harvest Moon 7
Iapetus 11
A Hike on Mars 12
July the Fifth 14
Another Moon 15
Surgery 16
One Hundred Nine 18
Summer Storm 20
Winter Hit! 22
January 23
Wilted Roses 24
On Observing a Visit from Corporate 25
Arrrr... 26
Curing Clock's Curse 28
Shhhhhhh 28
Snippet 29
Captain's Lament 30
A Graveyard Tale 31
The Curse of Battle Bluff 35
Night Flight 38
52 pages, available in Paperback only.
---
Click the image to purchase from our Print On Demand distributor (ships in 3 to 5 business days).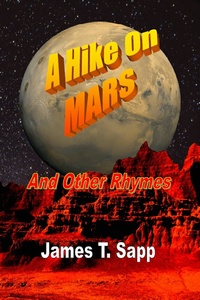 Also available from Amazon, Barnes & Noble, Lulu and other fine book sellers worldwide.