Blue and Gold Publishing is pleased to present:
A Hike On Mars and Other Rhymes
A double-dozen metered rhymes
To entertain and soothe your mind:
Some will take you on a trip
To make your Earthbound fetters slip.

Some will tickle your romance
Inviting you give love a chance.
Some are touching, one is sad,
One might make you steaming mad.

Some will chill and haunt your soul
Like night wind blowing, damp and cold.
Some will trigger memories
Of yesterdays out running free.

Others might tug at your brain
And call you back to read again;
But all will bring you peace of mind
And you'll be glad you took the time!

52 pages, available in Paperback only.
---
Click the image to purchase from our Print On Demand distributor (ships in 3 to 5 business days).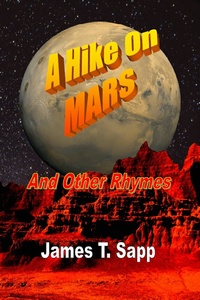 Also available from Amazon, Barnes & Noble, Lulu and other fine book sellers worldwide.