Blue and Gold Publishing is pleased to present:
SPACE: An Odyssey in Rhyme

Written in rhyming iambic heptameter, and placed in a not-so distant future of interplanetary travel and terraforming, this action-packed thriller is the story of a young engineer who is thrust into a world of sinister interplanetary intrigue and a ship captain's desperate search for the missing Love of his Life.

Travel with them to the far reaches of the solar system as they and their companions face danger and adventure, tragedy and joy, and loss and reward through trials of personal discovery and rebirth in a desperate fight to bring justice to tyranny, love to the lost, and liberty to the oppressed.

630 pages, available in Hardbound or Paperback.
---
Click the image to purchase from our Print On Demand distributor (ships in 3 to 5 business days).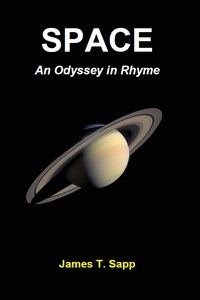 Also available from Amazon, Barnes & Noble, Lulu and other fine book sellers worldwide.